An understanding of airport privatization cannot be complete without discussing who are the stakeholders of airport privatization. By stakeholders, we are referring to the parties most impacted by a change in ownership of the airport. It is important to understand whose interest is most affected by a change in airport ownership and governance.
In this regard, there are four parties impacted most significantly by airport privatization. These include:
Airport Employees
Airlines
Passengers
State (government)
Airport Employees – Jobs & Careers Impacted by Airport Privatization
When the airports authority of India (AAI) announced privatization of six Indian airports in 2018, employee unions became active and opposed it seriously. So much so that a hunger strike was called by the union on Indian airports.
Similarly, in Greece in 2016, when Civil Aviation Authority of Greece privatized 14 Greek airports by awarding contract to private German airport operator company Fraport, Civil Aviation workers planned a 5-day strike.
There was a lot of tension as employee union planned to call a 5-day walkout from the airports that would have resulted in serious disruption in flight operation. The strike was called off when union reached on an understanding with the government.
What's the takeaway here?
The employees of airport management are one of the key stakeholders in airport privatization. Their interest that is affected by airport privatization is their jobs, career and the pay and benefits they are currently entitled to.
Prior to privatization, they work for the state and are given the benefits of government employees. However, after privatization, they become redundant because the airport is handed over to the new private owner and state pulls out of the day to day airport operations.
The question becomes, what will happen with these government employees?
In order to deal with the issue, government can look for a few options such as a golden handshake where a lumpsum severance money is paid to the employees and they are removed from payroll of the state.
Or, the state may transfer its employees to other state departments that can benefit from their airport industry related experience. Such a transfer can be to other transportation related departments.
Another alternative is that the government can make some arrangement with the new private owner for transfer of employees from government to the private sector.
The important thing to understand here is that something always needs to be done for dealing with concerns of airport management employees during privatization. Moreover, you must always expect airport employee unions to become active when privatization news hit the TVs. That is normal.
Therefore, it is necessary that whatever approach the government adopts, the underlying important factor is to develop trust with the employees and remain transparent of what government has planned for their jobs.
Airlines – Business Impacted by Airport Privatization
International Air Transport Association (IATA) is an international association of around 300 airlines comprising over 80% of global air traffic. It serves as voice of the airline industry within the aviation industry. In its 74th annual general meeting held in Sydney in 2018, IATA's Director General and CEO expressed IATA's views on airport privatization in the following way:
We are in an infrastructure crisis. Cash-strapped governments are looking to the private sector to help develop much needed airport capacity. But it is wrong to assume that the private sector has all the answers. Airlines have not yet experienced an airport privatization that has fully lived up to its promised benefits over the long term. Airports are critical infrastructure. It is important that governments take a long-term view focusing on solutions that will deliver the best economic and social benefits. Selling airport assets for a short-term cash injection to the treasury is a mistake.

… IATA research shows that private sector airports are more expensive. But we could not see any gains in efficiency or levels of investment. This runs counter to the experience of airline privatization where enhanced competition resulted in lower pricing to consumers. So we don't accept that airport privatization must lead to higher costs. Airports have significant market power. Effective regulation is critical to avoiding its abuse—particularly when run for profit by private sector interests.

– Alexandre de Juniac (IATA's Director General and CEO, 2018)
What's the takeaway?
Airlines are also among the most important stakeholders of airport business and one of the most affected by privatization of airports. Their interest lies in the airport charges imposed by the airport management for airport services.
Such airport charges include majority of the aeronautical revenue sources including landing charges, take-off charges, aircraft stand parking charges, air navigation service charges, ground handling service charges, de-icing charges and any other facility that is provided by the airport to the airline.
When airports are privatized and new private owners takeover the airport management, airport charges for airlines is generally the first thing they review because it is the main income source of the airport.
It lies in the best interest of airport management to charge more from the airlines and increase their revenues. However, what airport charges the airlines has direct impact on profit and loss of airlines. Therefore, it lies in the best interest of the airlines that airport charges remain minimal.
What is most important to understand is that airlines don't keep loss to themselves if airport charges increase. They transfer it to the passengers. If airport charges are increased by the airport management, airlines are most likely to increase the air travel ticket prices.
Apart from airport charges, airlines are involved in continuous liaison with airport management on all operational and safety related matters. Airline managers meet airport managers very frequently and resolve issues being faced in flight operation. Airlines may also work with airport management to improve airport infrastructure to suit their needs.
Therefore, the interest of airlines is tied strongly with good and responsive airport management and that's why airlines are always concerned about airport privatization in anticipation of the approach of new airport management towards them.
In view of above, it is advisable that airlines are kept onboard during airport privatization process to keep them as much satisfied as justifiably possible.
When the United States decided to experiment with airport privatization, the Federal Aviation Administration (FAA) developed a pilot privatization program in 1997. In this program, FAA made it mandatory for an airport authority to obtain consensus of airlines bringing 65% landing weight to the airport for it to initiate privatization process.
This principle gave veto power to air carriers and ensured that privatization is not carried out without taking airlines onboard.
Conclusively, whenever any aviation authority of government body is working towards developing a plan for airport privatization, it should incorporate at least some level of airlines inputs.
Passengers – Quality of Services Impacted by Airport Privatization
Passengers as one of the most important stakeholders are commonly understood. Privatization affects passengers significantly.
Passengers are not interested in the technical side of airport business like if airport is profitable or not; if airport has state of the art runway lighting system or not; if the non-aeronautical revenues of the airport are high or not…Passengers are not concerned about these things.
The interest of passengers is that airport provides quality services, respond to complaints and improve itself in infrastructure and facilities over time. Passengers want a good customer experience and quick resolution of problems.
Passengers want duty free shops; provisions for disabled persons; clean airport premises and building; fully working airport baggage handling system; comfortable air conditioning and similar facilities.
However, passengers don't sit on the table where privatization decisions are taking place to provide their input. Their input is represented by the people they elect in the government and by the airlines that serve passengers.
The State – Beneficiary of Airport Privatization
The government itself is the most authoritative stakeholder in case of airport privatization. The interest of government primarily lies in removing the burden of financing airport business from public money.
Secondly, it's not just a financial factor. With state's own employees, government remains in management and administration of the airport. By privatization, government relieves itself from the time and efforts involved in running airport operations.
Moreover, when the government privatizes the airport, it either receives a onetime big payment (if the airport has been sold) or receives annual royalty (if the airport has been leased). Both ways, government receives funds to strengthen the national treasury.
However, the government must remain careful that it does not become greedy and try to steer privatization towards monetary interests, otherwise that cost will ultimately trickle down to passengers.
If you charge the private owner more, he is going to find ways to pass it on to the airlines and other airport stakeholders which is likely to ultimately increase air travel costs for passengers.
The objective of state for privatization must remain efficient functioning of airports and better quality of services to passengers at economical rates. Furthermore, these objectives must be achieved without government injecting public money into airports.
Apart from being a beneficiary of airport privatization, governments also bear the brunt of an unsuccessful airport privatization in the form of media trial, legal complications, financial loss, reputational loss and a general hassle and inconvenience in related public offices.
Conclusion – Good Stakeholder Management Results in Successful Privatization
A successful privatization is the one in which all the stakeholders are satisfied i.e., government is relieved of the responsibility to manage the airport and the airport is generating enough funs to sustain itself; jobs of former airport employees are taken care of; airlines are satisfied and passengers are not making complaints.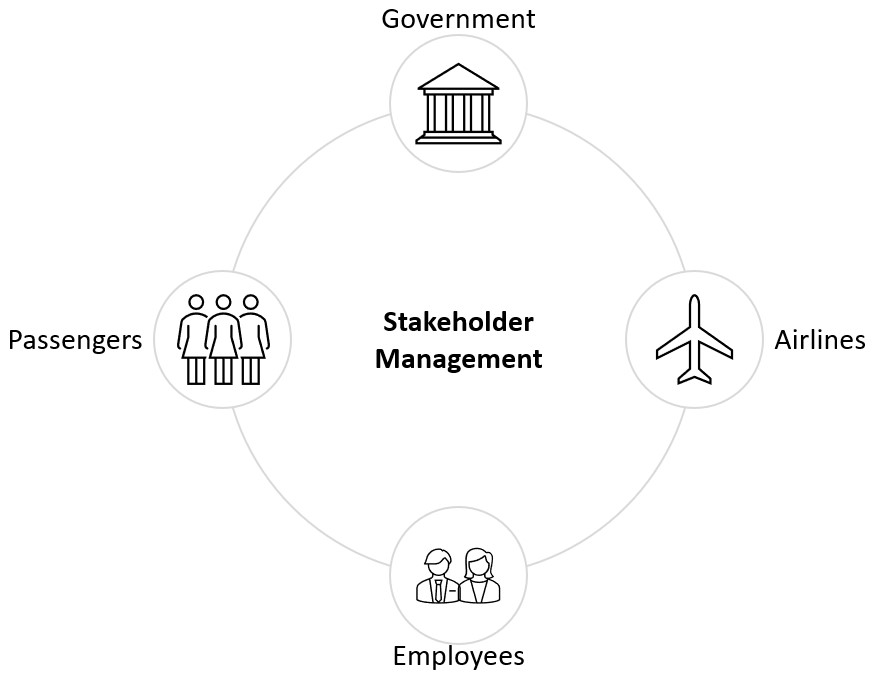 If you liked this article, share it with at least one person of common interest. It allows our work to be of service to people who can benefit from it the most.
You may also find this 3-hour online Airport Privatization Course interesting that explains all about airport privatization from its background and history and compares private airports with government-owned airports to develop good understanding of whether airport privatization is good or bad.