In one of our earlier articles, we discussed how privatization of airports was pioneered by Britain and how it was a success in general.
In today's article, we are going to present story of privatization of Cardiff International Airport (Wales, United Kingdom) that has a plot twist. It is an interesting case study that deviates from the generally presented examples of airport privatization.
So, without further due, let's begin.
Cardiff Int'l Airport is a historical airport of Wales, United Kingdom. It was constructed in 1942 as an Airfield for Royal Air Force. Later it developed into a commercial airport and has been serving as the main airport for Wales.
The airport receives around 1.5 to 2 million passengers each year. Infrastructure wise, it is a small airport with a single runway and a single passenger terminal. The importance of airport lies in its strategic value as being a gateway to Wales and is therefore treated importantly by the Welsh government and the Welch people.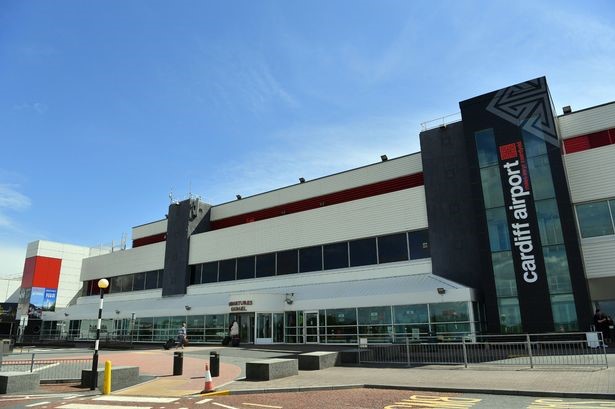 The airport had been owned and operated by Cardiff Airport Int'l Ltd. from 1986 to 1995, a Consortium of Local Authorities.
In 1995, privatization of Cardiff Airport was completed with Cardiff Airport Int'l Ltd. sold to a private company Thomas Bailey Investments or simply TBI – a private British company.
TBI was in turn acquired in 2005 by a Spanish multinational company Abertis, a company with a background of dealing in toll road management.
The objective of privatization was that Welch government wanted to tap into private investment for development of airport and funding its finances. Privatization was seen as a means of improving state treasury by sale of airport, and at the same time, removing burden of airport finances from public money.
What was the result of privatization? What happened after the private owners took over?
Everything went well until 2007 as airport received a steady rise in passengers visiting the airport that resulted in more and more revenue for the new private owners of the airport. However, the 2007 economic recession hit the aviation industry as well and Cardiff also took a hit with a sharp decline in passenger traffic after 2007.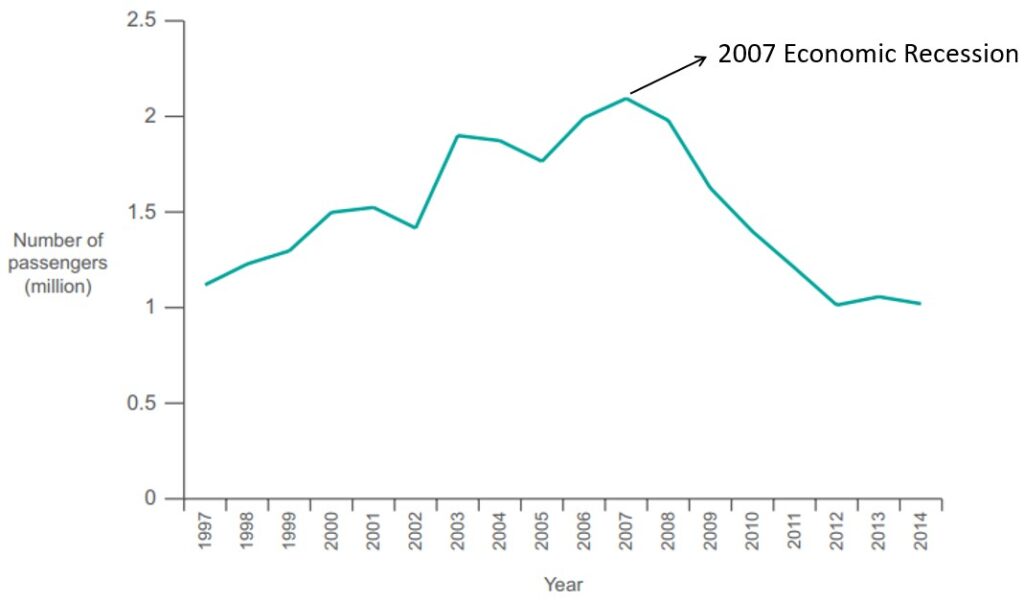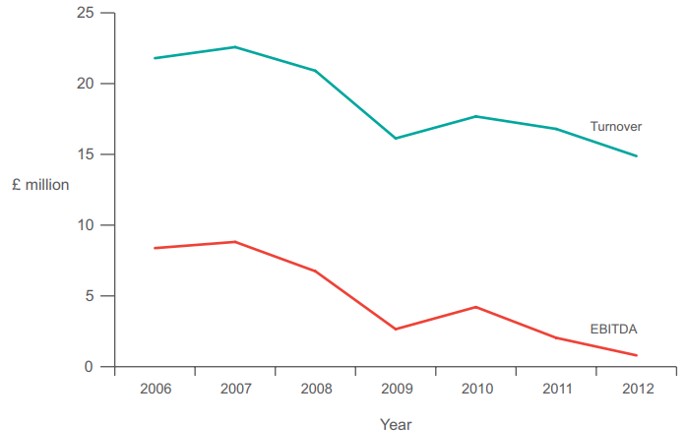 Passenger numbers fell from over 2 million in 2007 to nearly 1 million in 2012. This decline in passenger traffic directly translated into a sharp decline in revenues of the private owners. Reported earnings dropped from 8.8 million in 2007 to just 0.8 million in 2012.
The million-dollar question that Welsh government was also asking was if the downfall of airport was all an inevitable impact of recession and nothing could have been done about it, or the private owners and management is unable to deal with the crisis to come up with ways to fight the tide and stabilize the airport.
In order to ascertain whether it is the recession or Cardiff's management issue, traffic growth rate of Cardiff was compared with other airports of United Kingdom.
When the passenger traffic growth rate in the same period was analyzed, it was found that the average airport traffic in United Kingdom increased by 1.8%, whereas for Cardiff it decreased by 3.6%. It implied that it's not the crisis itself but how Cardiff is dealing with it as other airports were sustaining their growth in the same conditions.
However, Cardiff was a relatively smaller airport. It was considered that comparing Cardiff with overall airport industry of United Kingdom was not fair. Since Cardiff was a small regional airport in United Kingdom, it was compared with other small regional airports to make the comparison even.
However, when the smaller regional airports were examined, they were found to have a positive growth rate of 2.6% while Cardiff's growth rate had decreased by 1.8%. It again indicated that Cardiff is lagging behind other airports in the country that are just like Cardiff.
To make the comparison even fair, more detailed analysis was conducted. Cardiff was not considered to be just any small regional airport but a small regional airport with strong local competitors. Therefore, it was considered necessary for the comparison that Cardiff be compared not with all small regional airports but only those small regional airports that have strong local competitor airports in their vicinity.
It revealed that other small regional airports with strong local competitors in the United Kingdom did have a negative growth rate i.e., their traffic had decreased like Cardiff. However, unlike Cardiff, their traffic had decreased by only 0.3% while Cardiff's traffic had decreased by 3.6%.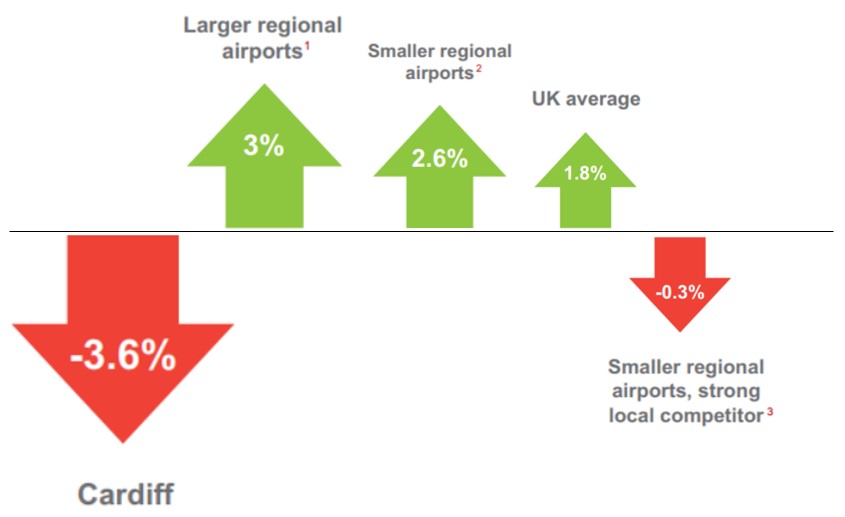 Conclusively, Cardiff's growth rate was much lower than similar airports. It indicated that yes, there was a crisis affecting other airports of United Kingdom, however other airports were not taking as much of a hit as Cardiff.
Therefore, Welch Government was concerned that Cardiff airport ownership was not doing enough to overcome its market disadvantages due to which Cardiff's traffic growth rate was plummeting much more than other airports in United Kingdom.
Cardiff International Airport's ownership and management was paying more attention on cutting costs than on winning new routes or improving airport's infrastructure to make it more attractive in the airport market that would resultantly improve Cardiff's traffic thereby improving its financial condition.
Finally, Welch government bought the airport back from private owners in 2013 for £52 Million after remaining under private ownership for 18 long years. Government bought it back because Cardiff was the main airport of Wales and it had significant economic importance for the Welch economy.
If you liked this article, share it with at least one person of common interest. It allows our work to be of service to people who can benefit from it the most.
You may also find this 3-hour online Airport Privatization Course interesting that explains all about airport privatization from its background and history and compares private airports with government-owned airports to develop good understanding of whether airport privatization is good or bad.
References:
Report "Welch Government Acquisition and Ownership of Cardiff Airport" by Wales Audit Office, 2016.
Publication "Lessons from Airport Privatization, Commercialization, and Regulation in the United Kingdom" by Ian Humphreys, Graham Francis and Jackie Fry, Paper No. 01-3239, Transportation Research Record 1744, Journal of the Transportation Research Board, 2001.