In one of our earlier articles, we discussed how privatization of airports was pioneered by Britain and how it was a success in general but how Cardiff International Airport's story was different.
In today's article, we are going to present another airport privatization case study that has a plot twist. It is the story of privatization of Glasgow Prestwick International Airport (United Kingdom) that was privatized, re-nationalized and again privatized. Within this chain, it once got sold just for £1.
So, without further due, let's begin.
Glasgow airport is a medium size airport in Scotland, United Kingdom. It is located 30 miles from the city center and has a history of being a passenger airport in Scotland since the 1940s.
Looking at pre-COVID figures, Glasgow is a busy airport with close to 9 million annual passengers making it the second busiest airport in Scotland (after Edinburgh Airport), and one of the busiest in United Kingdom.
Infrastructure-wise, airport is built on an area of nearly 900 acres with 16 boarding gates i.e., gates having facility of jet bridges for convenience of passengers. The airport also has the 2nd longest runway among the four main airports of Scotland. The airport also features a dedicated railway station that connects the airport to Glasgow and other areas in Scotland.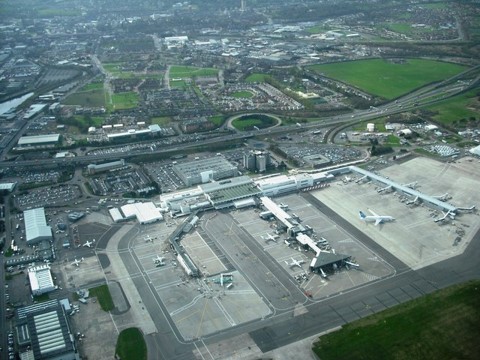 Historically, like all airports in United Kingdom, Glasgow Prestwick International Airport was owned and operated by state-owned enterprise British Aviation Authority until 1986 when it was privatized and turned into BAA PLC.
Later in 2001, Infratil Limited, a New Zealand-based infrastructure investment company, purchased majority shareholding in the airport and purchased the remaining shares in 2004 to become airport's sole owner.
The initial performance of Infratil was good. The airport saw an increase in passenger routes that indicated that the airport was becoming a choice for airlines. Infratil also worked on developing new facilities for aircraft repair, maintenance and overhauling.
It made the airport more attractive for airlines to choose as a hub or secondary base where airlines could develop maintenance capacity given the needed infrastructure to support it was available at the airport.
Another natural factor also worked in favor of Infratil. The airport had relatively stable weather conditions with less fog experienced in the winters as compared to other airports in and around Scotland. Therefore, the airport became an important diversionary airport where flights actually routed to other airports could land when weather got adverse. It contributed positively in the best interest of Infratil.
The growing airport revenues were encouraging for the Government as well as the private owner. That is until 2007.
The economic recession of 2007 hit the overall aviation industry and therefore Glasgow Prestwick International Airport was also hit. The decline of the airport in both passenger numbers and cargo continued as a downward slope with things going out of control.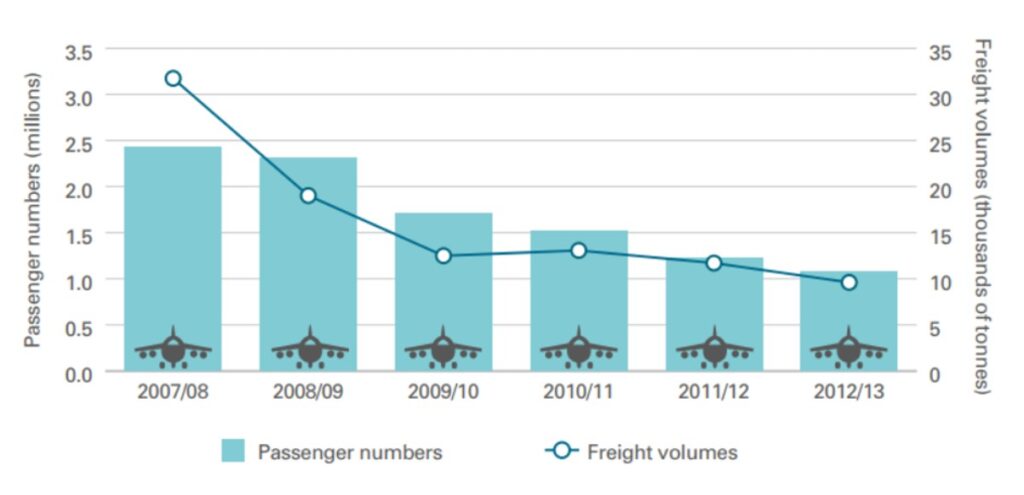 In a matter of approximately 5 years, airport passenger numbers fell from 2.4 million to less than half of that i.e., 1.1 million. Similarly, cargo fell from 32,000 tons to less than one third of that i.e., 10,000 tons. It obviously resulted in decreasing revenues and continuously deteriorating financial performance of the airport.
Annual losses for the airport's trading activities accumulated to over £20 million in the referred 5-year period.
Glasgow Prestwick airport was hit disproportionately by the economic recession i.e., it was taking more of a hit from the recession than other similar airports in United Kingdom. It indicated that the recession is not the only factor behind airport's decline. It hinted towards the inability of the airport owner to manage the airport in crisis.
There were two main reasons why Glasgow Prestwick Airport suffered more loss than other airports in United Kingdom:
The airport's dependency on a single airline Ryanair. The airport had majority of its traffic coming from Ryanair. When Ryanair reduced its flights, the airport suffered the most loss.
Shift in the trend of air cargo during the recession in which wide body passenger aircrafts were used to fly freight instead of dedicated freight planes. It deprived the airport of the large revenues it was generating from dedicated cargo facilities.
Unable to control the situation, the private owner Infratel put the airport up for sale in 2012. However, who was going to buy an airport in loss?
The last potential buyer withdrew in September 2013. Despite Infratil marketing the airport for sale for 18 months, the airport could not be sold. Airport was facing a great risk of closure. This was the point where Scottish Government had to step in.
Scottish Government couldn't afford Glasgow Prestwick airport's closure because the airport had a significant economic value in the region. Government's analysis found Glasgow Prestwick airport's total annual contribution to the Scottish economy to be more than £60 million.
In contribution towards national employment, the airport was found responsible for over 1,800 jobs directly or indirectly. Therefore, leaving the airport to its fate in the hands of private ownership was certainly not an option in the best interest of national economy.
The above circumstances led the Scottish Government to purchase the airport back at a price of £1 from the private owner Infratil in 2013. It happened because Infratil was already suffering significant loss at the airport and despite its best efforts, it was not able to sell the airport.
Getting out of the airport business was the only viable option for Infratil and Scottish Government was the only party interested in taking over the declining airport. Therefore, it was more of an airport handed over to the Scottish Government than a sale by Infratil.
Government supported the airport with public money to save it from closure and stabilize it. In December 2014, the airport was again privatized when it was sold to AGS Airports Limited – a company owned by Ferrovial, the Spanish multinational infrastructure and transport company, and Macquarie Group, a global financial services group headquartered in Australia. The same company owns the airport today.
If you liked this article, share it with at least one person of common interest. It allows our work to be of service to people who can benefit from it the most.
You may also find this 3-hour online Airport Privatization Course interesting that explains all about airport privatization from its background and history and compares private airports with government-owned airports to develop good understanding of whether airport privatization is good or bad.
References:
Report "The Scottish Government Purchase of Glasgow Prestwick Airport" by Audit Scotland, 2015.
Glasgow Airport Annual Monitoring Reports available on official website of Glasgow Airport at www.glasgowairport.com