Since United Kingdom pioneered airport privatisation, the same trend has been followed by Europe and many other countries around the world. In Australia, over 80 airports remained under ownership of commonwealth government until 1987. Later, Australia also adopted airport privatisation model.
In today's article, we are going to study the case of privatisation of Australia's main airport i.e., Sydney Airport.
The Sydney Kingsford Smith Airport is Australia's busiest airport as well as one of the busiest airports in the world with over 40 million passengers visiting the airport annually (as in 2019 based on Australian Bureau of Infrastructure and Transport Research Economics).
Infrastructure wise, it is a large airport with three runways; three passenger terminals with a combined capacity of handling around 65 Million passengers per year.
It is the hub for Australia's flagship airline Qantas. Therefore, the airport is a challenging airport with respect to managing it and running its operations.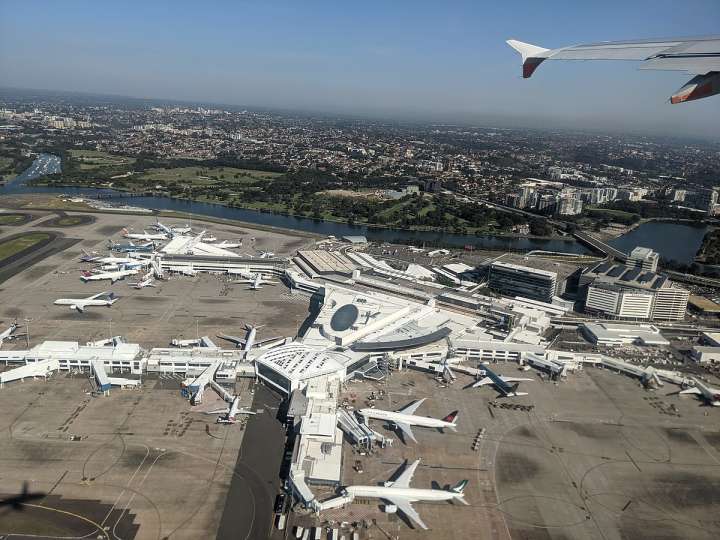 Sydney airport, along with all other airports of Australia had traditionally been owned and operated by the Australian Commonwealth Government up until the late 1980s.
It was in 1987 that government created a corporation for running the airports called the Federal Airports Corporation. It was a state-owned enterprise for owning and operating Australian airports, including of course, Sydney airport.
The establishment of a corporation was indicative of Australian government's realization that airports are commercial entities to be run with corporate approach. Entering into the 1990s, Australian government's economic policy had sifted towards privatisation of businesses.
Consequently, in April 1994, Australian government announced that it is going to privatize 22 airports owned by the Federal Airports Corporation. The announcement was soon followed by supporting legislation when the Airports Transitional Act was passed in 1996 that facilitated long term lease of airports to private sector companies.
The proceedings for privatisation of Sydney airport completed in 2002 and a lease contract was used as the type of privatisation for the airport. A lease duration of 49 years extendable by a further 50 years was awarded to a private sector company that won in the tender proceedings.
The company was Southern Cross Airports Corporation that was a consortium of multiple private companies including:
MacQuarie Airports, owned by Australian financial services company, with the largest interest at 40%.
Ferrovial S.A, a Spanish multinational company dealing in transport infrastructure, with an interest of 20%.
Hochtief AG, one of Germany's largest construction company, with an interest of 15%.

An important thing to note here is the diversity of companies forming the consortium that indicates the interest taking by private sector in owning and operating airports.
The objectives of privatisation were to minimize government's exposure to financial risk and liability associated with running a massive commercial entity. Airports of the scale of Sydney involve finances of several million dollars and serious expansion projects can exceed even a billion dollars.
Therefore, Australian government wanted to remove itself from burdensome financial responsibilities and wanted private companies to take these risks with the incentive to make profits.
Secondly, although not claimed by Australian government itself but expressed by various stakeholders, government wanted to improve airport efficiency by handing over the airport to expert and specialist companies.
Australian government gave some notable incentives to private sector to encourage maximum participation in airport privatisation. For example, government gave the consortium the first right of refusal. It was the right given to the consortium i.e., the private group that won the lease contract, to refuse any competitor airport to be built within 100 km radius of Sydney Airport for 30 years.
The first right of refusal was given to the private sector to relieve them from the fear of competition and make airport investment an attractive investment for private industry. It is a great example of instruments governments can use to make privatisation more attractive for the private sector and encourage private companies to participate and compete in owning and operating airports.
After privatisation, airport saw an increase in revenues and decrease in expenses. Airport revenue per passenger was under AUD 40 when privatisation took place in 2002. It increased to nearly AUD 45 per passenger by 2005. Similarly, airport's operational expenditure was close to AUD 6 per passenger in 2002 that decreased to close to AUD 4 per passenger by 2005.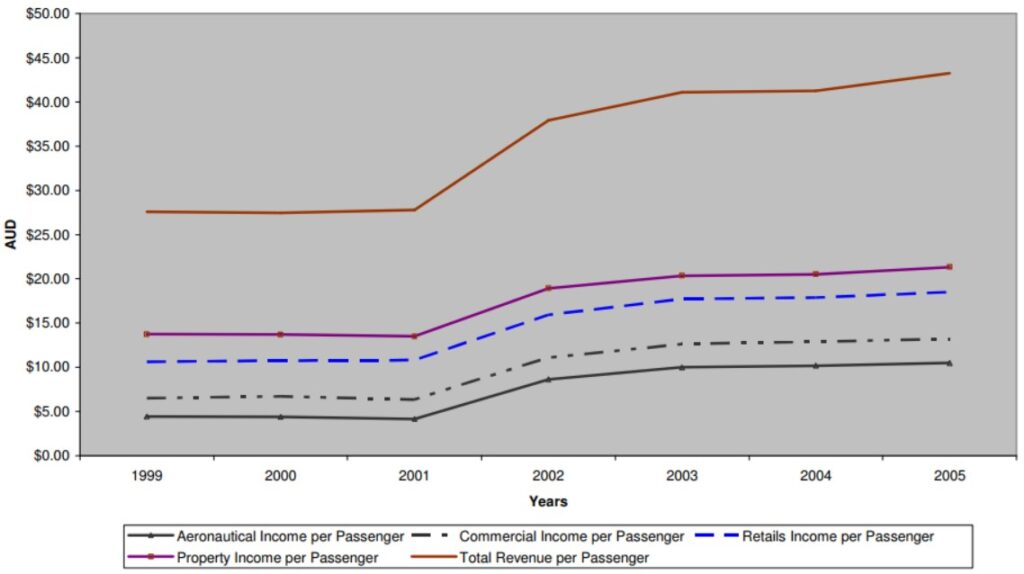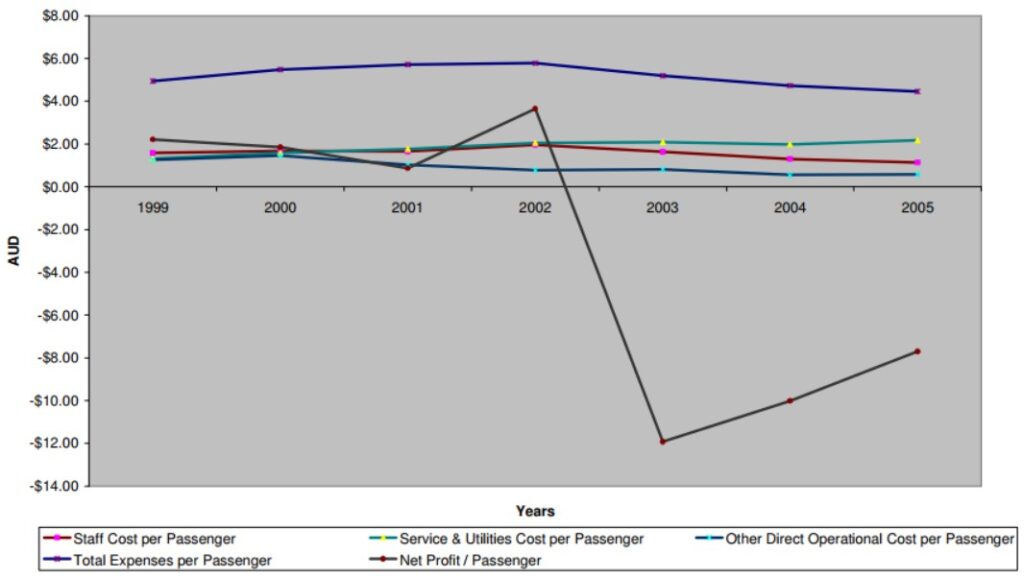 There were many other qualitative results observed after the new private owner Southern Cross Airports Corporation took over the airport. Many stakeholders felt that airport management became more responsive to them. The financial investments became more prudent.
Airport's dependence on Qantas decreased, the flagship carrier of Australia, as more and more other local and foreign air carriers increased scale of their operations at Sydney. However, as is the case with almost all privatisations, the effects are often debatable.
The Australian Competition and Consumer Commission expressed concerns about quality of service after privatisation and airport's management's relationship with airlines. However, the results have been acknowledged as positive overall with no deal breaker negative aspect highlighted.
The airport has consistently been winning awards from SKYTRAX, the United Kingdom based airport ranking site for being the best airport in Australia and Pacific region as well as being the best in the world on multiple occasions including:
2018: Best Airport in the Australia/Pacific Region.
2017: Among Top 3 Best Airports in the Australia/Pacific Region.
2016: Among Top 4 Best Airports in 30-40 million passengers a year category.
2015: Among Top 5 Best Airports in 30-40 million passengers a year category.
2006 & 2007: Best Airport in the Australia/Pacific Region.
2005: Airport of the Year.
2004: Best Airport in the Australia/Pacific Region.
2003: 3rd Place in World's Airports of the Year.
It indicates that airport services and a global image have been maintained and improved by the private owner Southern Cross Airports Corporation.
Conclusively, the privatisation of Sydney Airport is a good example of successful privatisation resulting in improved airport revenues and decreased expenses along with better quality of services to airport customers and stakeholders.
If you liked this article, share it with at least one person of common interest. It allows our work to be of service to people who can benefit from it the most.
You may also find this 3-hour online Airport Privatisation Course interesting that explains all about airport privatisation from its background and history and compares private airports with government-owned airports to develop good understanding of whether airport privatisation is good or bad.
References:
"Considering and Evaluating Airport Privatisation" by Airport Cooperative Research Program, Transportation Research Board, The National Academies of Sciences, Engineering, and Medicine, 500 Fifth Street, NW, Washington, DC, ACRP 01-14, Appendix-H.
"Time Series Data on Scheduled Regular Public Transport (RPT) Services at The Top Twenty Australian Airports" by The Bureau of Infrastructure, Transport and Regional Economics, Australia.
Official Website of Sydney Airport (www.sydneyairport.com.au).
Publication "Privatisation Impact and Social Disclosure: The Case of Sydney Airport" by Dorothea Zakrzewski and Professor Roger Juchau, School of Accounting, College of Business, University of Western Sydney (UWS).